Merry Christmas From Polar Communications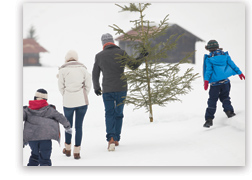 Polar Communications
hopes you enjoy a wonderful holiday season spent with family and friends. As you plan your activities, remember our office will be closed on the following days:
Closed on Saturday, December 24 and Monday, December 26
Open on Saturday December 31 8:00 a.m.-4:30 p.m. (assistance by phone)
Closed on Monday, January 2
In case of a service emergency, please call us at 284.7127.
Two To View – A Couple Of Amazing Videos You Don't Want To Miss

Christmas Surprise Traffic Stops
Lowell, Michigan might be the best place in the world to get pulled over. Watch as police officers there make drivers' holiday dreams come true.
Danny MacAskill's Wee Day Out
Get ready to be amazed. In this video, Scottish trials cyclist Danny MacAskill uses the beautiful rural landscape around Edinburgh to perform never-seen-before tricks.
Broadband Internet Makes it Possible!

You can have the world at your ngertips. Look up a recipe, the latest stock information, video chat, stream a movie or music, play interactive on-line games. Fast access to the Internet makes it possible for professionals to work from home. Students have access to information for educational study and real time access to assignments and grades. Today, an Internet connection allows health care professionals to evaluate, diagnose and treat patients in remote locations using telecommunications technology. Broadband Internet makes it all possible!
Bring the world into your home! Sign up for Broadband Internet before December 31, 2016 and we'll install it for FREE! Contact us at 701.284.7221 or
sales@polarcomm.com
.

FREE Featured Apps – These Three Are Well Worth A Look



Torch LED Light
Not just any flashlight app, Torch LED Light includes great features like clap or phone flip activation, strobe, timer, and magnifying glass.

Learn more...


Cookie Jam
Love Candy Crush Saga, but looking for something new? With fun puzzle challenges, Cookie Jam might just be your next game addiction.

Learn more...


Allrecipes Dinner Spinner
Getting dinner on the table has never been easier. Try this app for recipes on the go, complete with photos, videos, ratings, and reviews.

Learn more...

Stay Alert – Warning For PayPal Users


Go Pinterest-ing! – Cool Stuff To Pin On Your Pinterest Boards


Sites of the Month – Great Sites To Check Out In December December

2016 Tax Tips
efile.com – As the year draws to a close, you might be thinking about taxes you will owe for 2016. This page offers some great planning tips, such as estimating now what you'll owe in April, making charitable contributions to reduce your tax bill, and claiming all the deductions you're entitled to.
Chimney Maintenance
homeadvisor.com – You may not think of your chimney as something that needs maintenance. But those that aren't maintained can cause serious problems like carbon monoxide poisoning, fires, and dangerous cracks. Check out this page to get the details and find out how to prevent issues with your chimney.
Tree-mendous Decorating Ideas
countryliving.com – Visit this page to find a Christmas tree decorating style that matches your personality. Are you preppy? Modern? Outdoorsy? Whimsical? Traditional? Find great ideas here for trees of any size, in any room of the house. Also, check out the options for DIY tree base supports and ornament designs.
Find A Great Movie
agoodmovietowatch.com – You know the scene: you settle in for movie night, only to realize you have no idea what to watch. Use this site to pick by Random, Best Films, or Latest Movies, and then by Netflix or All. You'll be amazed by how many great flicks you can find with just a few clicks!

Short Tutorial/FAQ – Why Are Facebook Text Posts Bigger?

We hope you found this newsletter to be informative. It's our way of keeping you posted on the happenings here. If, however, you'd prefer not to receive these bulletins, please see the links at the bottom of this email to manage your preferences.
Thanks for your business!
Best regards
The E-Connections Team
Polar Communications
110 4th St E
Park River, ND 58270
800-284-7222
©2016 Cornerstone Publishing Group Inc.
Trademarks: All brand names and product names used in this eNewsletter are trade names, service marks, trademarks or registered trademarks of their respective owners.